Session 6: Moving the Energy Transformation Forward
Friday, 04. December 2020
9:00 to 11:00pm (PM GMT/UTC)
The Webinar duration is 2:0 hours.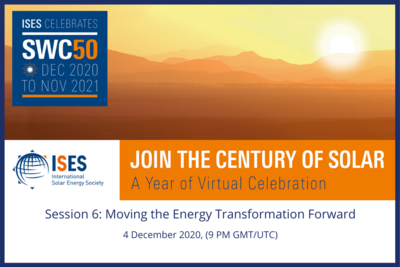 Session 6: Moving the Energy Transformation Forward
Lessons learnt, and pathways needed to be explored & Bringing it All Together - An ISES Roadmap for the Next 50 Years.
Support SWC 50 - The Century of Solar and the work of ISES
Your donations help make these and other ISES activities possible:
Celebration Virtual Conference; Online ISES Solar Energy Museum - Past Present and Future; and ISES SWC50: The Century of Solar - Stories and Vision booklet.
Support ISES here!
Speakers
Dave Renné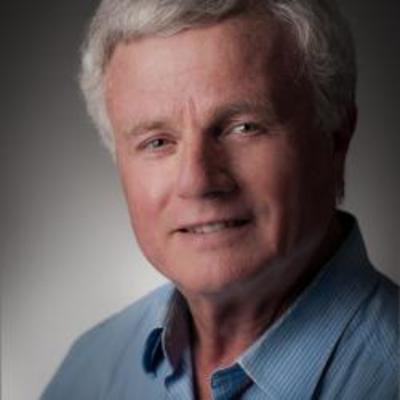 Dave Renné served as President of the International Solar Energy Society from 2010 - 2019.  From 1991 until his retirement in 2012 Dr. Renné managed the solar resource assessment activities at the U.S. National Renewable Energy Laboratory (NREL).  In 2012 he formed the consultancy Dave Renne Renewables.  He is dedicated to the concept of urgently achieving 100% renewable energy to meet all of our end-use energy requirements as the best solution to the climate crisis.
Larry Kazmerski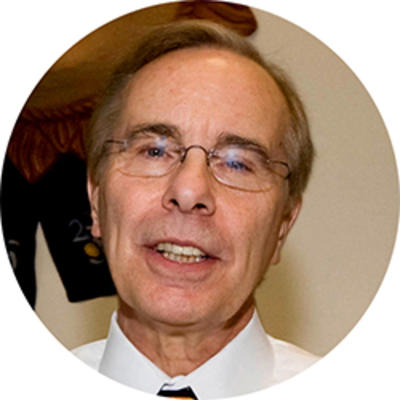 Lawrence L. Kazmerski is Emeritus Research Staff Member of the National Renewable Energy Laboratory, Golden, Colorado, having last served as Executive Director Science and Technology Partnerships at NREL 2009-2013.  He is currently Research Professor at the University of Colorado Boulder, with the Renewable and Sustainable Energy Institute (RASEI). Kazmerski's 50-year professional career in solar energy includes serving as the founding Director of the National Center for Photovoltaics (NCPV) for the period 1999 through 2008.
Charlie Gay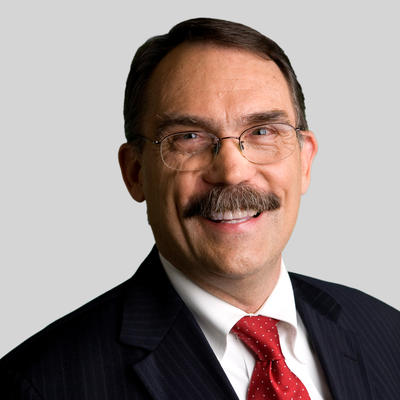 Charlie Gay has over 45 years of experience in renewable energy. Currently, he is chief executive officer at Violet Power.  In addition, he serves on the Sandia National Laboratories Energy and Homeland Security External Advisory Board and on the Board of Directors for Solpad, Inc. He has significant private-sector experience, including past tenures as president of Applied Solar for Applied Materials, chairman of the technology advisory board for SunPower Corp, president and chief executive officer of ASE Americas, president and chief operating officer of Siemens Solar Industries, and president of ARCO Solar. Dr. Gay's public service includes Director of the Department of Energy's Solar Energy Technologies Office and Director of the National Renewable Energy Laboratory. He is creator of the Greenstar Foundation, an organization that delivers solar power and internet access to villages scaling microenterprise in the developing world. Charlie has a Ph.D. in chemistry from the University of California, Riverside. He holds numerous patents for solar devices, won the Gold Medal for Achievement from the World Renewable Energy Congress, was elected to the U.S. National Academy of Engineering in 2013 for leadership in the development of the global photovoltaics industry and in 2019 received the Charles Greeley Abbot Award from the American Solar Energy Society.
Christine Lins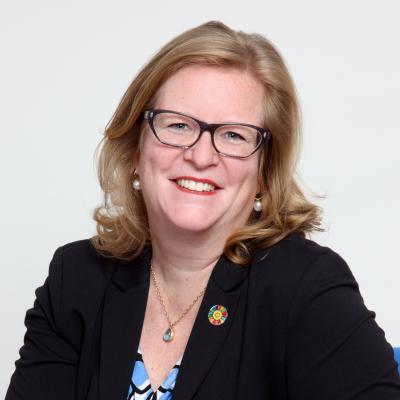 In May 2017, Christine Lins co-founded GWNET, the Global Women's Network for the Energy Transition, which aims at empowering women in the sustainable energy sector. From July 2011 until April 2018, Christine was working as Executive Secretary of REN21, the Renewable Energy Policy Network of the 21st Century, headquartered at the United Nations Environment Programme in Paris/France. Between 2001 and 2011, Ms. Lins served as Secretary General of the European Renewable Energy Council in Brussels. Previously, she worked in a regional energy agency in Austria promoting energy efficiency and renewable energy sources.
Lawrence Jones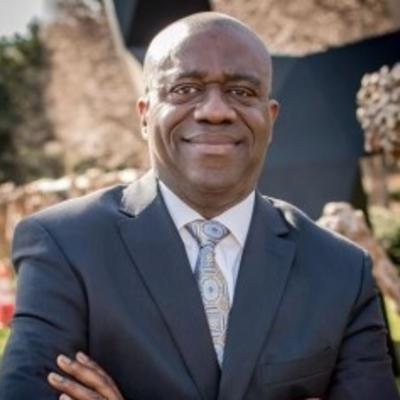 Dr. Lawrence E. Jones is an award-winning, thought leader and practitioner with over twenty-five years of experience in the energy industry. He joined Edison Electric Institute (EEI) in September 2015 as Vice President, International Programs. Under his leadership, EEI's International Programs has more than 65-member companies with operations in over 90 countries and has launched several new strategic initiatives. Prior to joining EEI, Dr. Jones was North America Vice President for Utility Innovation & Infrastructure Resilience at Alstom Grid Inc., where he assisted utilities worldwide with formulating strategies for deploying new technology innovated business solutions. Prior to joining Alstom, Dr. Jones worked as a consultant for ABB Power Systems in Vasteras, Sweden. He was also a visiting researcher at Electricite de France in Clamart, France.  Born in Monrovia, Liberia, Dr. Jones received his MSc, Licentiate and Ph.D. degrees in Electrical Engineering from the Royal Institute of Technology in Stockholm, Sweden.   
Mike Eckhart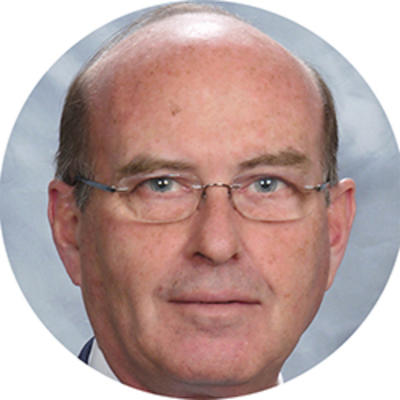 Michael Eckhart is an Adjunct Professor in Environmental Finance at Columbia University in New York City. Until mid-2019, he was Managing Director and Global Head of Environmental Finance of Citigroup, Inc.  Mr. Eckhart led the banking industry development of the Green Bond Principles (GBP), opening the green bond markets globally. Previously, he was founding President of the American Council On Renewable Energy (ACORE). Earlier, in the 1990s, he worked with leaders in Europe on the development of the Feed-in Tariff, and developed financing for solar energy under the SolarBank Initiative in Europe, Africa and India.  Earlier in his career, he held management positions in the power industry and was a Principal with the energy practice of Booz, Allen & Hamilton where he conducted many of the original U.S. national studies on the new energy technologies, including solar energy, for President Jimmy Carter. He has received several professional awards including Renewable Energy Man of the Year of India in 1998, the Skoll Award for Social Entrepreneurship in 2008, and the International Solar Energy Society's Global Leadership Award in 2013. He received a degree in Electrical Engineering from Purdue University and an MBA from Harvard Business School and served in the US Navy Submarine Service.
Rainer Hinrichs-Rahlwes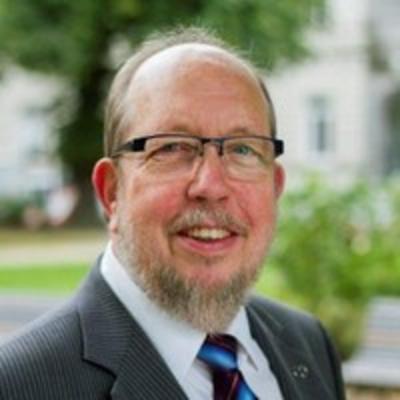 Rainer Hinrichs-Rahlwes is an experienced renewable energy expert. After having served as the President of the European Renewable Energies Federation (EREF) from 2010 to 2014, he is one of the association's Vice-Presidents now. He is representing EREF as a Steering Committee Member of REN21. Rainer is also a Board Member of the German Renewable Energy Federation (BEE). He is the Chairman of BEE's European and international affairs Committee. Rainer is a Member of the Advisory Council and the Head of the Policy Committee of the World Renewable Energy Network (WREN). And he is a lifetime member of the International Solar Energy Society (ISES). Before joining the renewable energy sector, from 1998 to 2005, he was a Director General in the German Federal Ministry for the Environment, Nature Conservation and Nuclear Safety (BMU).