What is SWC50 - The Century of Solar ?
In 1970 solar research pioneers met at the first International Solar Energy Society (ISES) Conference in Melbourne Australia. ISES is commemorating this Conference with a special 50th Anniversary Virtual Conference and Display called the Solar World Congress at 50 (SWC50).
During these past 50 years solar energy has grown from being emerging technologies to a vibrant industry. The Century of Solar highlights the transformation in the global energy sector that has taken place since the first Solar World Congress in 1970 and looks forward to the next 50 years when solar energy will be a major cornerstone of the global energy system. While the focus is on the evolution of solar energy, the importance of other renewable energy sources working together to reach the 100% renewable energy world goal will be a central theme.
SWC50 - The Century of Solar is about the people: researchers, industry players, policy makers, and leaders of NGOs and non-profit organizations who have all contributed to make solar energy the fastest growing contributor to new electricity capacity.
The Virtual Conference will be a series of six 90-minute panel sessions from 3 – 4 December 2020 plus 3 follow up webinars during 2021. The virtual museum will be launched during the conference in December 2020 and will be a permanent "living" website.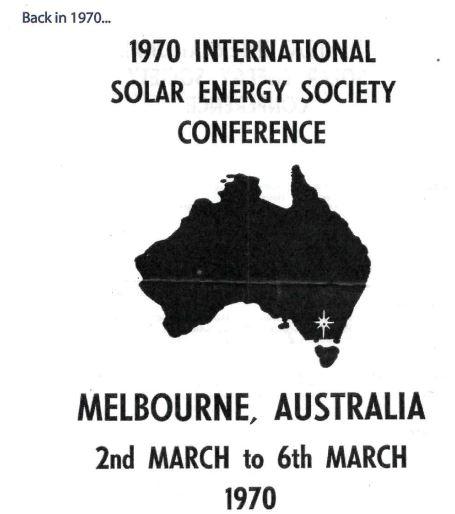 The SWC50 will include:
A 2-day virtual conference in December 2020, with invited speakers and panellists who will:

address strategies to accelerate the "Journey to 100% Renewables".

address all energy sectors and regions. 

focus on social issues, technological issues, and enabling framework issues.

Three follow-up webinars during 2021.

An online virtual museum providing a timeline and focusing on the stories from the past 50+ years and visions for the next 50 years through the eyes of:

Institutions (research laboratories and universities);

NGOs and Non-profit organizations:

Industry; and

Governments.

Monthly newsletters during 2020 and 2021

Development of a Commemorative Booklet called "The Century of Solar - Stories and Visions of Renewable Energy"

Individuals recognised as Renewable Energy Pioneers in the virtual museum and booklet.

A solar time-line display which will be launched at the 2020 Asia Pacific Solar Research Conference (APSRC20), 01 – 03 December 2020 in Melbourne and will be available to be displayed at future ISES and ISES partner events. 

A historical display at APSRC20.

A 50-year celebratory dinner at APSRC20 and potentially celebrations (dinner or receptions) at other conferences during 2021
Audience
The SWC50 will bring together a global audience from the renewable energy community. Online participants and invited speakers will include scientists and researchers, industry representatives, government and NGO leaders, entrepreneurs, practitioners, and students from around the world.