What is SWC50 - The Century of Solar ?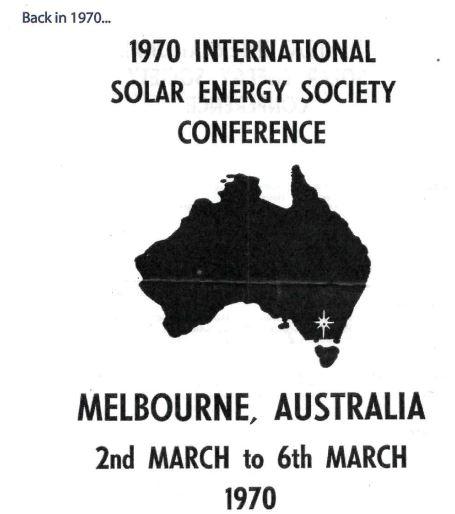 In 1970 solar research pioneers met at the first International Solar Energy Society (ISES) Conference in Melbourne Australia. ISES is commemorating this Conference with a special 50th Anniversary Virtual Conference and Display called the Solar World Congress at 50 (SWC50) - The Century of Solar.
During these past 50 years solar energy has grown from being emerging technologies to a vibrant industry. The Century of Solar highlights the transformation in the global energy sector that has taken place since the first Solar World Congress in 1970 and looks forward to the next 50 years when solar energy will be a major cornerstone of the global energy system. While the focus is on the evolution of solar energy, the importance of other renewable energy sources working together to reach the 100% renewable energy world goal will be a central theme.
SWC50 - The Century of Solar is about the people: researchers, industry players, policy makers, and leaders of NGOs and non-profit organizations who have all contributed to make solar energy the fastest growing contributor to new electricity capacity.
The Virtual Conference was a series of six 90-minute panel sessions from 3 – 4 December 2020 plus 2 follow-up webinars during 2021.
A virtual museum - the ISES Online Solar Energy Museum has been launched during the conference in December 2020 and will be a permanent "living" website displaying the growth of solar, the people, companies and institutions involved who made this transforamtion possible.
Additionally, the organizers issued a call for the nomination for Renewable Energy Pioneers to honour the efforts of individual researchers, system designers, system installers, business leaders, policy makers and those within the donor community, without whom the renewable energy industry would not have grown from Watts to Gigawatts in the last 50 years. By December 2020, 283 profiles of these Renewable Energy Pioneers have been submitted and collected in the SWC50 celebratory booklet "The Century of Solar - Stories and Visions of Renewable Energy".
This celebratory booklet "The Century of Solar - Stories and Visions of Renewable Energy" tells the history of solar in short highlights, and provides a look into the future as well. The highlights, organized by decade, cover solar PV, solar thermal, concentrating solar power, solar architecture, PV in developing countries and ISES itself. The book is available online as well as to download for free here.
The SWC50 included:
A 2-day virtual conference in December 2020, with invited speakers and panellists who:

addressed strategies to accelerate the "Journey to 100% Renewables".

addressed all energy sectors and regions. 

focused on social issues, technological issues, and enabling framework issues.

An online museum providing a timeline and focusing on the stories from the past 50+ years and visions for the next 50 years through the eyes of:

Institutions (research laboratories and universities);

NGOs and Non-profit organizations:

Industry; and

Governments.

Development of a Commemorative Booklet called "The Century of Solar - Stories and Visions of Renewable Energy"
Individuals recognised as Renewable Energy Pioneers in the virtual museum and booklet.

A solar time-line display which was launched at the 2020 Asia Pacific Solar Research Conference (APSRC20), 01 – 03 December 2020 in Melbourne and will be available to be displayed at future ISES and ISES partner events. 

A historical display at APSRC20.

A 50-year celebratory dinner at APSRC20 and potentially celebrations (dinner or receptions) at other conferences during 2021