Session 5: Public, Policy, and Financial Advances
Friday, 04. December 2020
1:00 to 2:30pm (PM GMT/UTC)
The Webinar duration is 1:30 hours.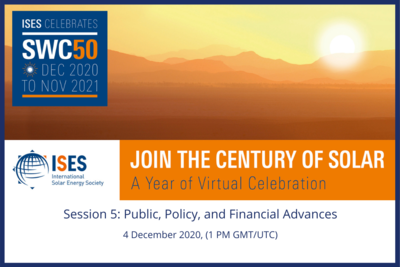 Session 5: Public, Policy, and Financial Advances
Reviews landmark changes in public support, policy development and financial markets that have advanced solar adoption and discusses future steps needed to enable 100% renewable energy world.
Support SWC 50 - The Century of Solar and the work of ISES
Your donations help make these and other ISES activities possible:
Celebration Virtual Conference; Online ISES Solar Energy Museum - Past Present and Future; and ISES SWC50: The Century of Solar - Stories and Vision booklet.
Support ISES here!
Speakers
Paulette Middleton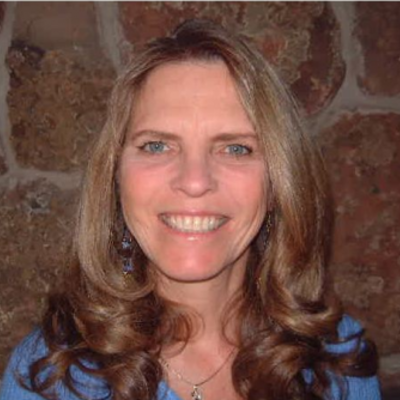 Paulette is a strong advocate for the rapid transformation of the global energy system to renewable energy for all, used wisely and efficiently. During her 40-year career as an atmospheric chemist specializing in assessments that bring science to support appropriate decision making related to energy and the environment, Paulette has come to deeply appreciate the need for this transformation. She strives to effectively use her expertise in research/analyses, program development, and communications/marketing, along with my commitment to collaborative problem solving, to advance ISES' work. Paulette's professional experience includes leadership positions at University of Texas (PhD Chemistry 1973), National Center for Atmospheric Research, Atmospheric Sciences Research Center at the State University of New York at Albany, Science & Policy Associates, Inc., and RAND.  Ongoing activities include Global Emissions Initiative (GEIA) coordinator since 1991 and science-based environment/energy advisor to a wide variety of public and private, and stakeholder consortium clients since 2002 through her company Panorama Pathways.  In addition to being ISES Board Secretary, Paulette also is past Co-Chair of American Solar Energy Society Board of Directors (the USA Section of ISES). 
Mike Eckhart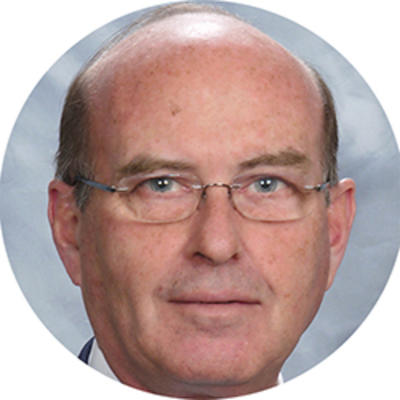 Michael Eckhart is an Adjunct Professor in Environmental Finance at Columbia University in New York City. Until mid-2019, he was Managing Director and Global Head of Environmental Finance of Citigroup, Inc.  Mr. Eckhart led the banking industry development of  the Green Bond Principles (GBP), opening the green bond markets globally. Previously, he was founding President of the American Council On Renewable Energy (ACORE). Earlier, in the 1990s, he worked with leaders in Europe on the development of the Feed-in Tariff, and developed financing for solar energy under the SolarBank Initiative in Europe, Africa and India.  Earlier in his career, he held management positions in the power industry and was a Principal with the energy practice of Booz, Allen & Hamilton where he conducted many of the original U.S. national studies on the new energy technologies, including solar energy, for President Jimmy Carter. He has received several professional awards including Renewable Energy Man of the Year of India in 1998, the Skoll Award for Social Entrepreneurship in 2008, and the International Solar Energy Society's Global Leadership Award in 2013. He received a degree in Electrical Engineering from Purdue University and an MBA from Harvard Business School, and served in the US Navy Submarine Service.
Sven Teske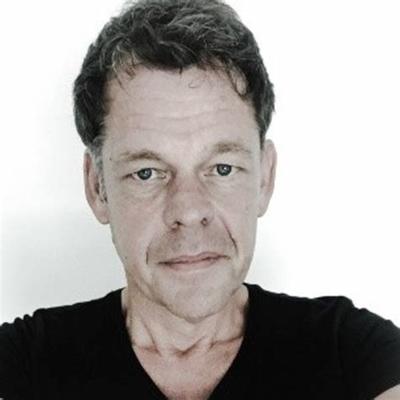 Dr Sven Teske is a Research Director at the Institute for Sustainable Futures, University of Technology Sydney. He has 25 years' experience in renewable energy market surveys and forecasts, especially solar photovoltaics, concentrated solar power, onshore and offshore wind.
He specialised in technical analysis of renewable energy systems and 100% renewable energy concepts for countries, regions, communities and islands with a special focus on developing countries and member countries of the Climate Vulnerable Forum (CVF).
Dr Teske and his team specialised on 1.5C compatible decarbonisation concepts as input for National Determined Contributions (NDC) required under the Paris Climate Agreement.
Helen Watts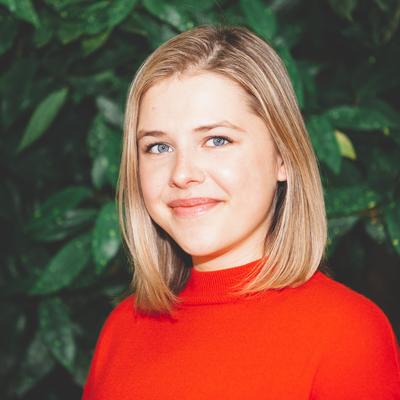 Helen Watts is Student Energy's Director of Innovation and Partnerships. She oversees Student Energy's global fund development and co-leads new programming with public, private, and civil society sector organizations. Helen is co-leading Student Energy's Global Youth Energy Outlook, which will launch November 2021 at the UNFCCC's COP26. Helen co-Founded the Greenpreneurs virtual incubator for youth-led social enterprises in the Global South along with co-Founders at Youth Climate Lab and the Global Green Growth Institute. Helen played an instrumental role in the Energy Transition Action Track of the UNSG Climate Action Summit in 2019 to bring youth engagement to the energy transition programme, participated as one of 200 participants in the 2019 Sustainable Energy for All Charrettes, and is currently participating in the Indo-Pacific Youth Dialogue 2020 as a youth policy representative on Climate Change and Natural Disaster Risk Management. Helen has spoken at forums around the world to advocate for meaningful youth engagement in climate and energy decision-making and is one of Canada's 2018 Top 25 Environmentalists Under 25. She graduated from Concordia University in Montreal in 2017.
Jonathan Silver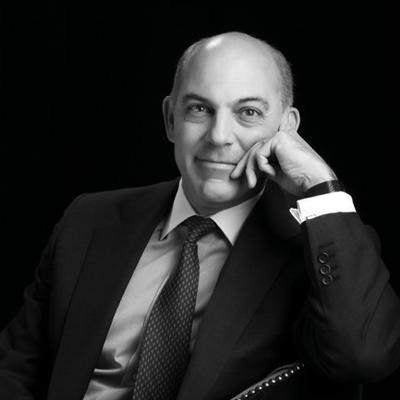 Jonathan Silver is one of America's leading clean energy investors and advisors. Currently a Senior Advisor at Guggenheim Partners, a $300 billion investment and advisory firm, Jonathan works with clean energy and clean-tech companies globally. He is a member of the boards of National Grid (NGG:NYSE) and Plug Power (PLUG:NASDAQ) and Managing Partner of T.E.A. a tax equity investor in large-scale solar power projects. Earlier, Jonathan led the US government's $40 billion clean energy investment fund, was Managing Partner of a top-tier venture capital firm, and COO of Tiger Management, then the largest hedge fund in the US. He has served as a Senior Advisor to four US Cabinet Secretaries and began his career at McKinsey and Company.